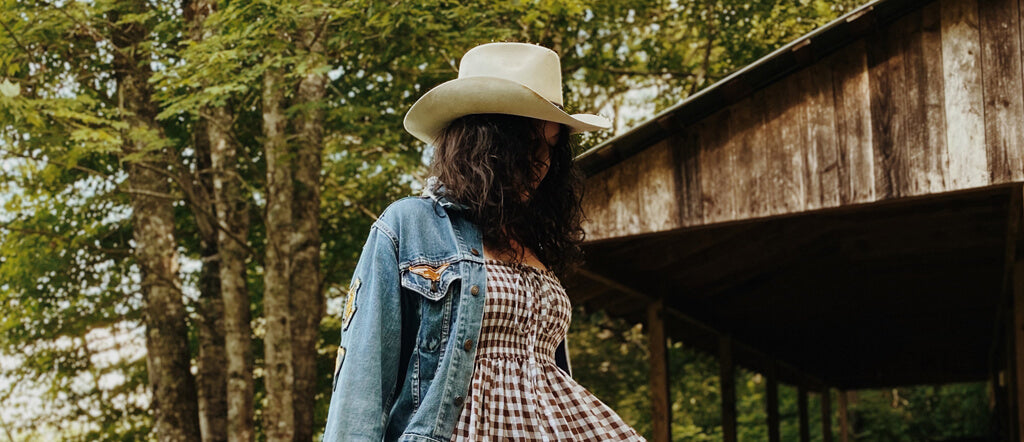 We catch up with one of our
for a life update and a bit
of inspiriation. Have a read &
a follow of this beautiful soul.
How have you tried to stay motivated and positive - what helps you?
I have really taken an interest in learning about the ways our bodies can heal themselves and become stronger. I love reading about all of the natural and amazing benefits of the sun, minerals, plants and more! After going through cancer and the super-heightened awareness of health over the last few years, I wanted to be more educated and implement positive new changes in my life.
3 styling tips/tricks you have learnt over lockdown are:
Comfort, but make it cute (jumpsuits and bralettes are my best friends).
Sneakers go with everything. 
Wear beautiful dresses, even if you don't leave the house.
Describe your outfit today and why you chose to wear this:
I'm wearing a Free People harem jumpsuit and one of their ribbed crops, with the new Spell Yellowstone Knit Cardigan. I'm working remotely and am all about comfort.
Any new brands/small designers you've discovered lately you can share?
Be sure to check out the beautiful hand-dyed garments from
@seadog_designs
and the incredible pottery from
@rockwaterpottery
. You will be blown away by their creativity and talent.
Your favourite item of clothing at the moment is and why?
You'll often find me in my ultimate go-to dress—the River Maxi from Opia Byron Bay. (I am not ashamed to admit that I have 5 of them!) It is terribly comfortable, so feminine and flattering, and easy to dress up or down. I'm usually wearing some beat-up Converse sneakers with it.
An Instagram account you always go to for inspiration is....
What plans do you have for the next 6 months?
My husband and I travel back and forth between the beach and the mountains. I plan to fill my soul with more of that!
Any final words xx
Always be aware of the joy and beauty around you. Cuddle your loved ones, both human and furry. Unplug often and try to laugh a million times a day.